Alone at Home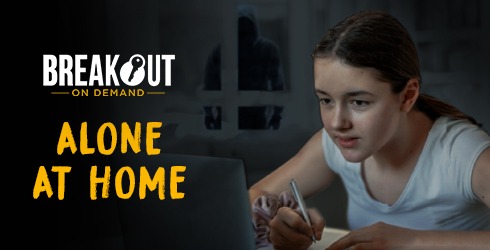 This pandemic sucks. You've been trapped inside the house for so many months, you can't even remember when it started. You're practically an adult (17 ½ to be precise) and yet your parents have been all over your business just because they're stuck at home too. You miss going out with your friends, hanging out at your usual spots.
It's like you're 13 again; you can't leave the house because of the quarantine, and everything you do at home needs permission or gets criticism. And so, you were glad to hear that your parents were both going on business trips, and that you would actually have more space at home, at least for a few days.
But tonight, something is amiss. A couple of sketchy guys are hanging outside your house, and you know that they are up to no good. Could they know that mom and dad are away? You are certain that they will try to force their way into your home. You are determined to keep them out, though you are home alone!
Pricing
- Minimum Team Size: 2 Users

Our Low Prices are as follows:
- Team of 2 users = P300 per user
- For 3 - 6 users = extra P250 per user

Regular Maximum: 6 players

If you have more than 6 players, please email us at support@breakout.com.ph for corporate booking rates.
Rules
//1
You are alone at home, and you need to keep the intruders out of the house. You have contacted your friends to help you figure out what to do!
//2
Communicate and work together. Make sure to be on an audio or video call with your friends so you can secure the house before the intruders get in. You can use Google Meet, Zoom, or any other platform of your choosing.
//3
You and your friends will see and have access to the same information throughout the game. Remember, any one of you can input the right answer into your device, and it will affect the rest of your teammates. Beware, however: inputting a wrong answer will also incur a time penalty for the entire group.
//4
You can use resources available on and offline. Be creative in finding your solutions.
//5
If you need help solving a puzzle, any member of the team can click the Hint button for a clue. Each Hint will result in a 30-second time penalty. You can get up to 2 hints per puzzle; pressing Hint a third time will give you the solution. However, there is a cooldown time between hints.
//6
Can you get on the leaderboard of the best to keep the intruders out of their homes? Good luck!