Work from Holmes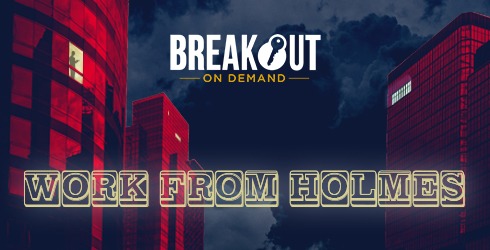 The pandemic hit the whole nation hard but things are looking up. The number of positive cases have been decreasing, the economy is opening up and most offices are moving on from their work from home setups.
That's a relief for you. You're frankly all zoomed out and relieved to be getting some face to face times with your peers. "Finally something real" you often tell yourself as things are getting back to normal.
As luck would have it, "normal" wouldn't stay normal for so long. One day, as you were about to come in for work, you received a text from an unknown number. "The fate of thousands of lives is in your hands" it said along with a request to get in touch with the sender.
You try to brush it off as a prank but you decide to read it again. As you pull out your phone, another message comes in. "This is urgent. A bomb is about to go off in public and we need your help." You scroll down further and read that it's sent by a person named Agent Holmes. You stop in your tracks. Agent Holmes is a well known detective and recognized worldwide for protecting the general public. If there were a real life superhero, he would be as close as it gets.
This is absolutely real and you're being called up to the plate. You decide to step up and receive work from Holmes.
Pricing
- Minimum Team Size: 2 Users

Our Low Prices are as follows:
- Team of 2 users = P300 per user
- For 3 - 6 users = extra P250 per user

Regular Maximum: 6 players

If you have more than 6 players, please email us at support@breakout.com.ph for corporate booking rates.
Rules
//1
There are 3 objectives. You and your team must (1) Figure out how to coordinate with Agent Holmes (2) Access the secret control center hidden within the Mead Johnson office and (3) Locate the terrorist before time runs out!
//2
Communicate and work together. Make sure to be on an audio or video call with your team. You can use Google Meet, Zoom, or any other platform of your choosing.
//3
You and your friends will see and have access to the same information throughout the game. Remember, any one of you can input the right answer into your device, and it will affect the rest of your teammates. Beware, however: inputting a wrong answer will also incur a time penalty for the entire group.
//4
You can use resources available on and offline. Be creative in finding your solutions.
//5
If you need help solving a puzzle, any member of the team can click the Hint button for a clue. Each Hint will result in a 30-second time penalty. You can get up to 2 hints per puzzle; pressing Hint a third time will give you the solution. However, there is a cooldown time between hints.
//6
The teams with the fastest time will be placed on top of the leaderboard exclusive to all players. Good luck!